Everyone knows who Predators stars Mike Fisher (Carrie's husband), Pekka Rinne and Colin Wilson are, but it is time to draw your attention to other Predators players that are making an impact.
Sometimes in sports, you have a player that puts a smile on everyone's face.  Maybe it's a tenacity they show, a willingness to go to the tough areas, or that they're simply a joy to watch play the game.
Nashville has seen the emergence of a player that fills the gap left by Patric Hornqvist in another talented Swede named Viktor Arvidsson.  On October 8th, 2015, Viktor scored his first NHL goal and immediately fans knew this player was going to show emotion (which is rare and usually muted in hockey) and add a little fun to the lineup.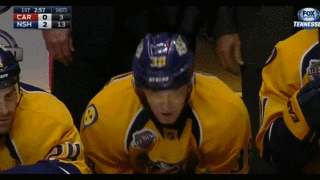 Now, after some playoff success to build confidence, Arvidsson is hitting a stride on the Predators top line with Filip Forsberg and Ryan Johansen (to the tune of thirteen goals and nineteen assists).  Speaking of Johansen, he gave an incredible quote earlier this season that truly explains the style Arvidsson plays:
Meant to share this last night, but a solid quote from Ryan Johansen on Viktor Arvidsson. #Preds pic.twitter.com/Pw47w5jrAt

— Thomas Willis (@TomAWillis) November 16, 2016
As you stand around at your favorite coffee shop or craft brewery and hear the Preds come up, mention Arvidsson's contributions this season; because everyone loves the hard-working Swede.
(Featured Image Credit: Christina McCullough)